A shareholder register is a common requirement for private companies in numerous countries, including but not limited to the UK, the US, and Denmark. Countries such as Sweden, Australia, and Finland keep an equivalent share register. The register consisting of a list of the company's shareholders, which was historically kept in a loose-leaf or bound book. Even today though, newly formed companies continue to use and manually update a hard-copy, despite the electronic version often being easier to maintain and just as acceptable from a legal perspective.
In any case, the register helps companies keep track of their shareholders and shares, but also ensures some level of transparency of ownership, given that anyone from within or outside the company has a right to inspect the register. The latter typically includes the name and address of each member, as well as their shares held distinguished by share number (if applicable), date of issuance, share class, and any amount paid or unpaid on those shares. Companies can choose to include additional information in the register too. Updates to the register are mandated whenever shares are issued, transferred, or otherwise reorganised (for example with a share split, consolidation, cancellation or conversion).
Share Ledger or Shareholder Register?
In the UK, the shareholder register is often referred to as the register of members, is a statutory register. The company is not obliged to keep details of each allotment and transfer in the register, but it is recommended by the UK government to extend the register of members with a share ledger - commonly referred to as a 'register of applications and allotments' and 'register of transfers' in the UK. The share ledger acts as a transaction history, making it possible for the company to track down how, when and why a shareholder acquired her current holdings.
Maintaining Your Company's Shareholder Register
The responsibility of maintaining a company's shareholder register usually falls upon the company's officers - directors and/or a company secretary. Updating the shareholder register becomes increasingly demanding as the number of shareholders grow (and, in case a share ledger is kept, as the number of share transactions rises). Capdesk removes this burden completely: you can simply view relevant data directly online and export to pdf or Excel with a single click.
Companies may outsource the shareholder register maintenance (usually alongside general shareholder administration) to external service partners, in order to optimise administrative processes. However in doing so, the company's internal administrative officers inevitably become relatively distanced from their shareholders. With Capdesk, your external partners work within the platform and register data directly online - there's really no reason to keep a separate copy of the shareholder register and no reason why you as a company administrator shouldn't have direct access to your own shareholder register. The platform can also provide great benefits for company secretaries using the platform on behalf of an organisation, as it optimises efficiency and allows them instant access to relevant data at any time.
Keeping Your Shareholder Register on Capdesk
We at Capdesk are delighted to announce that important upgrades are coming to the shareholder register! We will include a share ledger alongside the shareholder register, and support a pdf version of the shareholder register export. If you are already using Capdesk as a shareholder register, all you have to do is to make sure that the 'registered date' field of all your share transactions is correct, and you're all set for the upgrade. Piece of cake. If you want to start using Capdesk as a shareholder register at any time, go ahead and do so. Simply update the 'registered date' field of your share transactions to correspond to the Date of Entry in your current shareholder register, and you're all set.
Keeping Up to Date After the Upgrade
Any share transaction on Capdesk can (and should) be registered in the shareholder register - luckily the process is straightforward. You can register it during creation (for historic transactions) or once published, so as to mark the process of the transaction completed. To do so, first configure Capdesk as your shareholder register via your company settings, by checking the box Use Capdesk as shareholder register (and saving):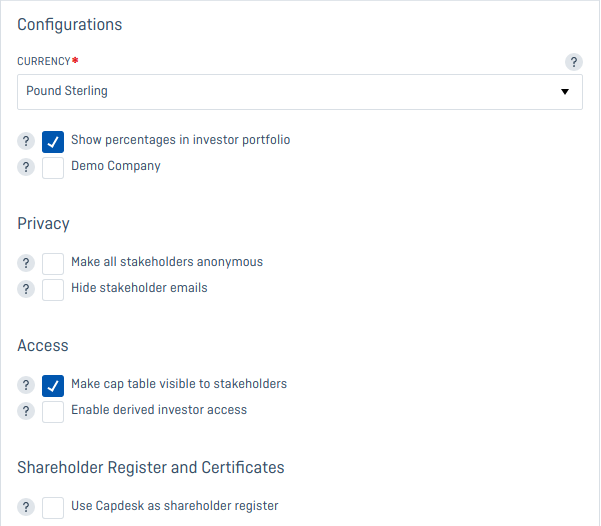 Whenever you register (historical) transactions on Capdesk, you can fill in the registration date (the date of entry in the shareholder register) on the spot: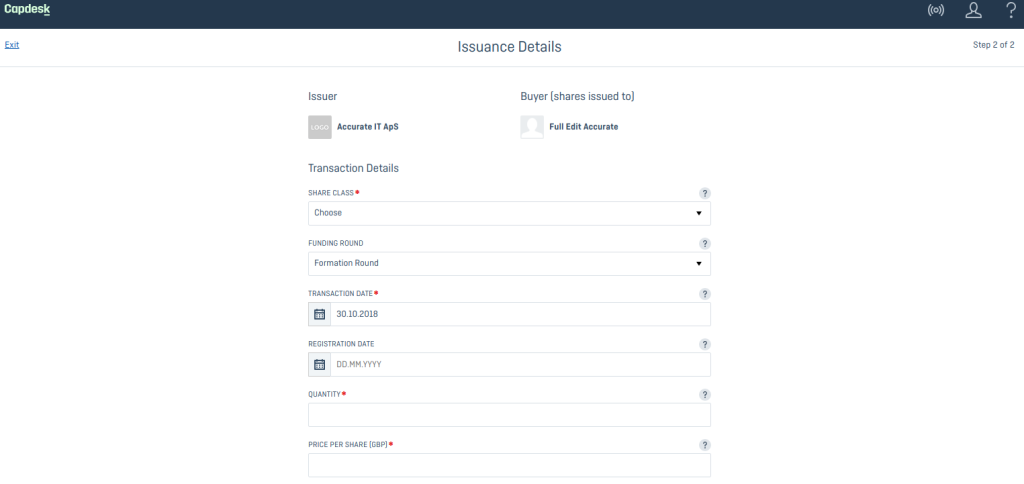 For newer transactions (for instance transactions of an ongoing funding round), you can register them in the shareholder register after publication on Capdesk once the full transaction process is completed:
Simple as that - your transaction will now be found in any future shareholder register exports.
Exporting Your Shareholder Register
You can export your shareholder register from Capdesk at any time with a single click. Simply choose the shareholder register export, and an email with your export will be sent to you.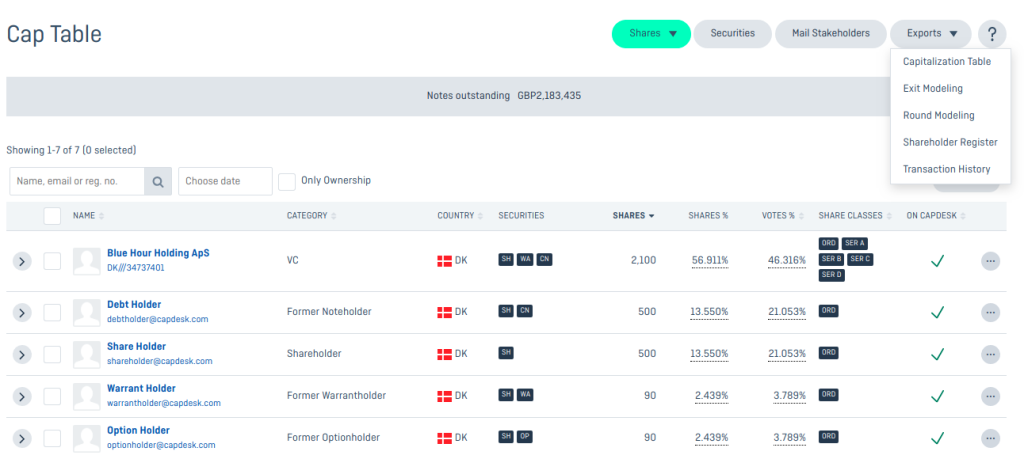 The export you'll receive is a pdf including the shareholder register and share ledger. A separate entry in the shareholder register is created for each shareholder and share class. An entry for a shareholder could look like the one below (templates may be changed):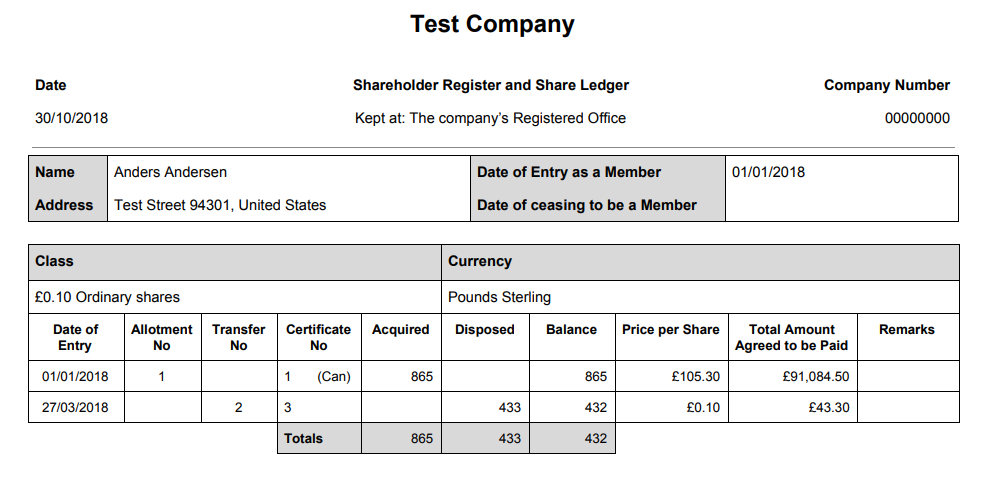 Share Certificate Support Coming Soon
In close relation to the shareholder register upgrade, we are happy to announce that share certificate support on Capdesk is right around the corner. Generating, signing, book-keeping and distributing your share certificates with shareholders has never been easier! Keep an eye on the blog to be notified when this is made available.