Here at Capdesk we're extremely excited to announce that, for the first time ever, we've made grant issuance entirely digital! The grants are electronically executed as deeds, following legal best practises. This means that it's not only faster and easier for you to execute grants, but that you're also remaining compliant from the start and avoiding potential legal headaches in the future.
Specifically, as a Capdesk admin you can now: issue grants to new or existing stakeholders using automatically filled out grant agreements, add your own and your witness's signature, keep relevant documentation on file, and never worry again about updating your cap table. Capdesk will automatically do it for you every time you issue a new grant. When you're done, you can also generate an EMI notification through the platform to later submit it to HMRC. All in one place.
Here's a brief overview of how it works:
Create a new grant by going into your 'Options' tab, clicking 'Add Grant' and selecting 'Execute on Capdesk'.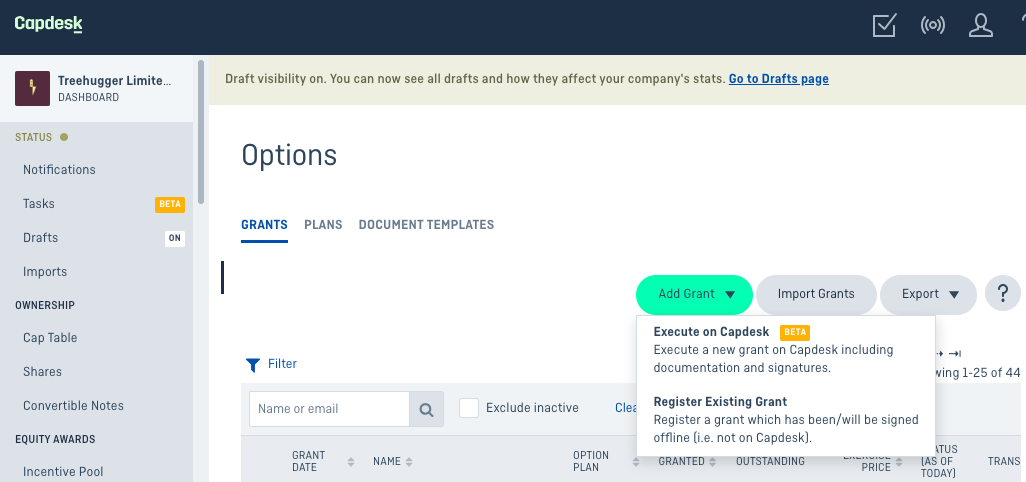 After you've selected the optionholder you wish to issue the grant to, as well as the option plan as part of which you're issuing the grant, Capdesk will automatically use your data to fill out your grant agreement and send it to the recipient. Both the optionholder and their witness will be invited via email to log in to Capdesk and sign the document electronically.
When it's time for you and your own witness to sign, Capdesk will let you know in your 'Tasks' tab.
Once all parties have signed, the grant is immediately made official, and your grant agreement will be securely stored on the platform, available for download at any time.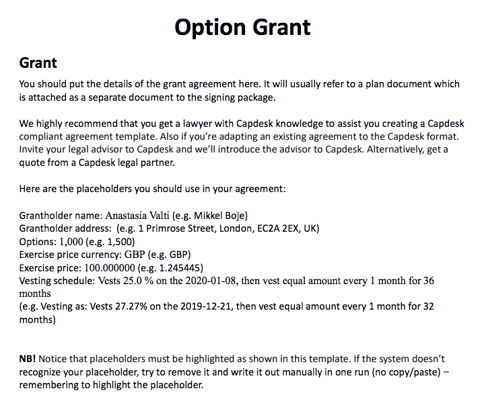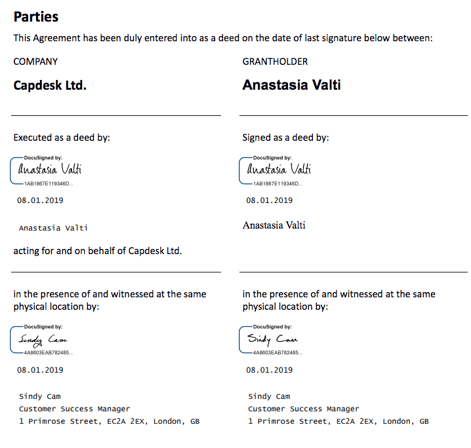 That's it! You'll now notice that all your Capdesk reports have been updated to reflect the new grant you issued, without you needing to lift a finger.
If you want, you can also generate an EMI notification with just a couple of clicks on Capdesk for you to submit to HMRC. No paperwork, no missing files, no time wasted.
*For a step-by-step guide on how to issue grants on Capdesk, take a look at our support article, or watch a recording of our last webinar on option grant signing!