If you follow

Capdesk on LinkedIn

, you'll have heard of Voi Technology. Just a few weeks ago we were congratulating the e-scooter startup (and Capdesk customer) on their recent fundraising success. In July, Voi Technology secured $30 million in a round led by investment company VNV Global. They announced reaching profitability in the same month.
---
As welcome as it is, growth on this scale inevitably brings complexity to a company's cap table. From new investors and share classes to additional option holders with unique vesting schedules, managing the equity of a business evolving this rapidly can easily turn into a full-time job.
Luckily, Voi came across Capdesk at just the right moment and was able to avoid the coming administrative workload. Voi's Head of Legal Adriana Berglund spoke with us recently about her team's experience as a newly onboarded Capdesk customer.
A chance encounter
Before hearing about Capdesk, Adriana and her team had intended to keep a record of everything manually, although she finds that hard to believe now.
"At one point we were planning to manage everything in Excel, and set up Google Calendar updates. We would have needed to track the cliffs and vesting dates of over 600 employees who currently hold options – all on Google Calendar!"
Thankfully, before the plan to go manual was implemented, Voi was introduced to Capdesk by a VC. Adriana checked out the platform, spoke to a Capdesk salesperson, and was ready to make a decision right away.
"Everything moved very quickly once we saw that Capdesk was compatible with European and Swedish regulations. I spoke with Ben in the sales team who negotiated a great tailored price for us."
Set up a conversation to see if we can do the same for you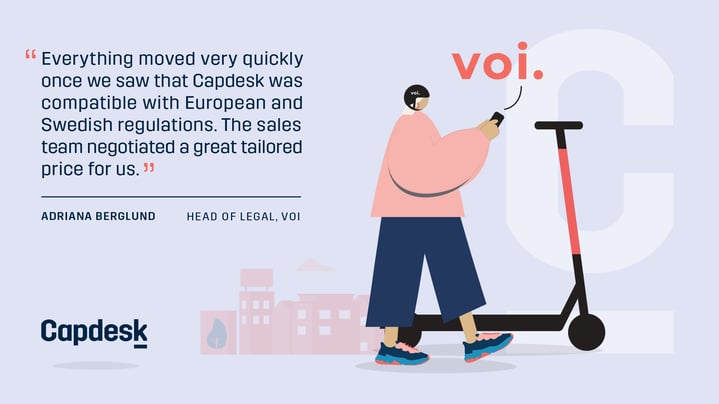 Unrivalled customer support
Voi joined Capdesk in January 2020, and Adriana had nothing but praise for the team that helped them get up and running on the platform.
"Our onboarding experience has been great. We've received so much help from Sindy and Matthew – far beyond what I anticipated. Voi has an extraordinary amount of investment rounds and investors, so we've had to issue loads of options and warrants already.
"We'll eventually manage all our cap table activity independently, but the team has been so supportive in accommodating our requests in the meantime. Once we were ready to start learning how to do it, they set up a great session to talk us through the process. Now we know exactly what to do, it won't be difficult to manage it ourselves."
Everything in one place
Even as a relatively new customer to Capdesk, Voi is already getting the most out of some features.
"It's great for me as a place to store all the required documentation. With Capdesk, I don't need to go through my folders to dig things out. I can simply log in, search for someone by name, and access the relevant files through the platform. We're also saving lots of time by enabling stakeholders to access their own information directly via their individual accounts."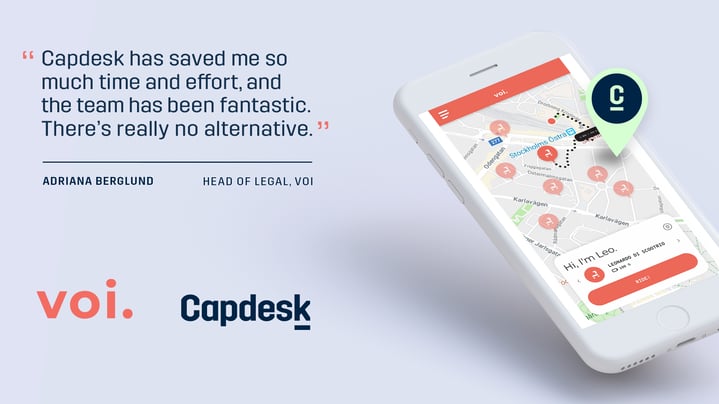 Sizeable savings
The main reason Voi went with Capdesk was to save on legal fees, Adriana explained. Enlisting lawyers to oversee changes in equity can become very expensive, as well as draining internal resources and taking up valuable time.
"We've saved thousands of euros already in legal fees. Every time we issue options to new or existing option holders we'll save another few thousand. For every additional funding round we'll save a considerable amount more, from admin fees and not having to manually update the cap table."
That's right: Voi saves tens of thousands of euros every single year through using Capdesk.
An alternative to Capdesk?
Adriana's outstanding experience has left her questioning why any company wouldn't use Capdesk.
"There's really no alternative. The team has been fantastic, and it's great to be able to call and always speak to the same people who manage our account. I've worked in law firms so I know what customers can end up paying for these services, which are essentially administrative – it's crazy. Capdesk has saved me so much time and effort."
---
Scarlett spoke with Adriana Berglund, Voi's Head of Legal in August of 2020