We take your data privacy seriously. That's why we've now built an optional two-factor authentication feature on Capdesk, for those of you who want to be extra sure that no one else can access your account. Two-factor authentication can be enabled on an individual level by you, the user, or set as a requirement by the company for all the users it invites on the platform. It's a simple as 1-2-3. Just make sure you've got your phone nearby!
Enabling Two-Factor Authentication As a User
If you're an existing user on Capdesk and would like to enable two-factor authentication for your personal account, log on to Capdesk and navigate to the 'Preferences' section of the menu at the top right.
Under 'Security', tick the 'Enable Two-Factor Authentication' box. Please note that in order to enable this feature, you'll have to have provided your mobile number and country under 'Legal Identity'.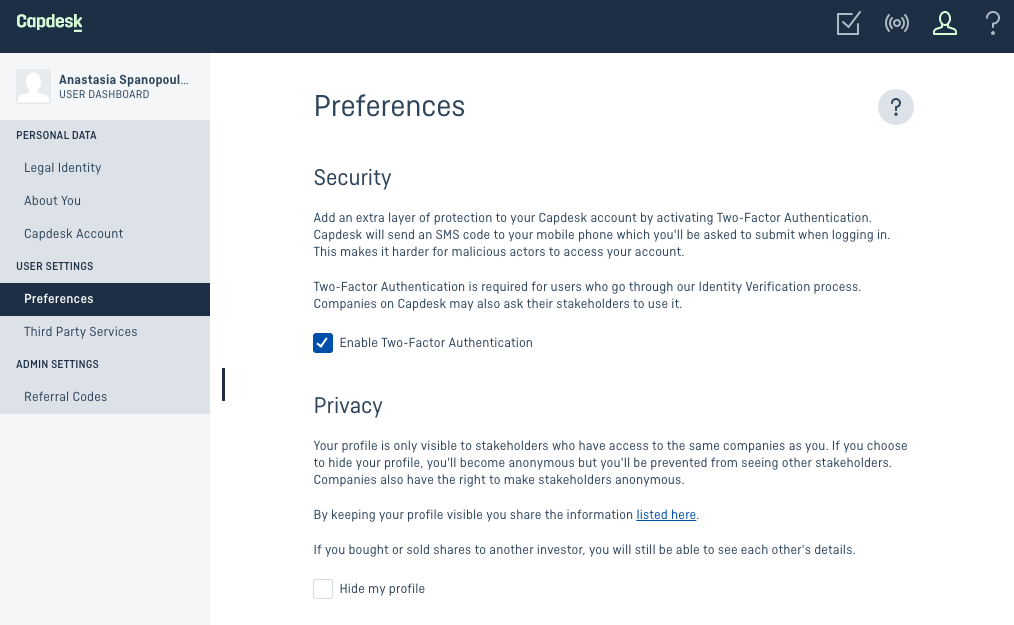 Once you've activated two-factor authentication, you will be asked to use a code sent to your phone in addition to your login credentials every time you sign in anew on the platform. Just hit the 'Send Code' button when you see the following pop-up:

Input the authentication code in the field shown below and hit 'Verify Code'. If you don't receive a text message, or have trouble verifying your code for any reason, you can ask for the system to send you a new one by selecting 'Resend Code' instead.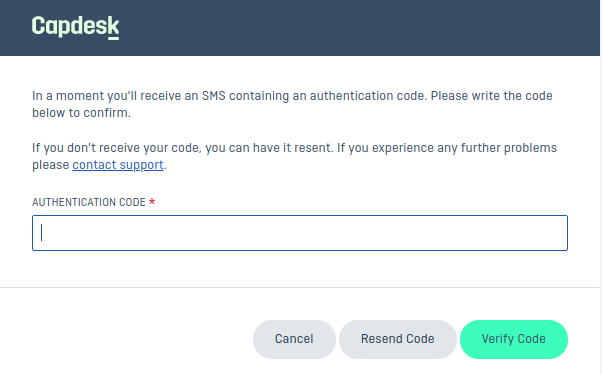 Once you've verified your code, you're all set up and ready to access your Capdesk account!
You will have to repeat this process every time you log onto Capdesk, unless you disable two-factor authentication from your 'Preferences' tab. Please note that, if you do not log out of your account before exiting the platform, you will not be required to enter your login credentials next time you access it, and therefore won't go through the two-factor authentication process. For your own security, you can access the platform without re-logging in for a maximum of five days, after which Capdesk will automatically sign you out and ask you to log in again.
Enabling Two-Factor Authentication As a Company
If you're a company admin, you have the option to make two-factor authentication a requirement for the users you invite onto the platform. Please note that if you enable this feature, it will become a requirement for all users under your company account.
To enable this feature, head to 'Settings'. Under 'Access', select the 'Require Two-Factor Authentication' box.
And that's all! From now on, every new user you invite on Capdesk will be asked to provide a phone number and use two-factor authentication before they can access any information for your company. For users who have already signed up, they will simply be asked to do so every time they log on to the platform moving forward.
Additional Safety Notes on Your Two-Factor Authentication Process
To make this process even more reliable, we've added a few extra security layers to it:
1. Every authentication code has an expiration time of a few minutes. If the code is not used within that timeframe, you will have to request a new one. This prevents people other than yourself from coming across the code and getting access to your account.
2. If you try inputting the same code more than three times, the code will automatically become invalid. This ensures the platform is filters out suspicious activity.
3. If you enter the code incorrectly more than 5 times, it will be invalidated as well.
If you had any doubts at all before, you can now sit back and relax - we can ensure your data is safer than ever in our hands!
Keen to find out more about your data protection on Capdesk? Here's a little more about your data privacy as well as how to configure user access settings to make sure the right people have access to the right kind of information on your account.