With almost £2Bn pounds invested in UK startups through EIS last year, it's clear that EIS can be a goldmine of a scheme for early-stage startups. Unfortunately, it comes along with quite a bit of paperwork. But, as you know, we're all about the paperless life here at Capdesk, so we're bringing you one step closer to it by letting you store EIS documents on Capdesk for your investors to stay informed about your application status, and making EIS3 signing and distribution digital to save you tons of admin time. Let's put a smile on your investors' faces!
Before you can use any EIS related functionality on Capdesk, you'll have to enable EIS on your Settings and Add-ons page.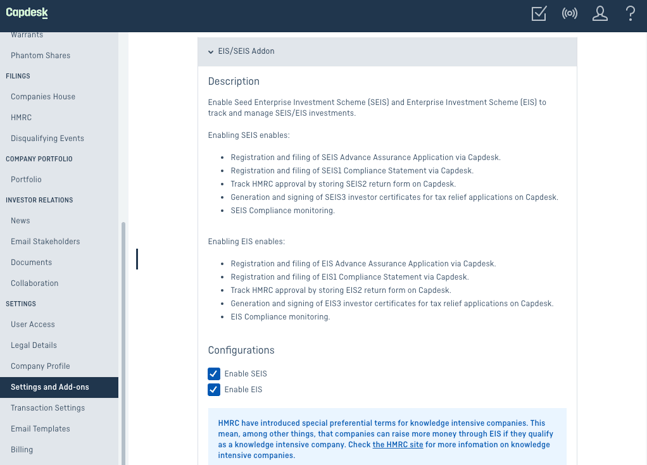 Now, first thing's first: your EIS Advance Assurance (AA). If you've already submitted it to HMRC, you can mark it as filed on the platform. Simply navigate to your HMRC tab to do so.

As soon as HMRC gets back to you about your AA, you can mark it as approved or rejected, accordingly.

With an approved EIS AA, you can show your investors that they are likely to qualify for EIS and, hopefully, they'll now happily invest!
Since you've enabled EIS, moving forward you'll be able to register any shares you issue on Capdesk as EIS investments. You can also mark already issued shares as EIS by tagging the imported file as is_eis. Please note that you'll have to publish the transaction in order for your company representative to be able to sign EIS documents later.
Once your investments have been signed off, you'll have to send an EIS Compliance Statement (EIS1) telling HMRC what's been paid in by each investor. You can upload your EIS1 on Capdesk for file-keeping.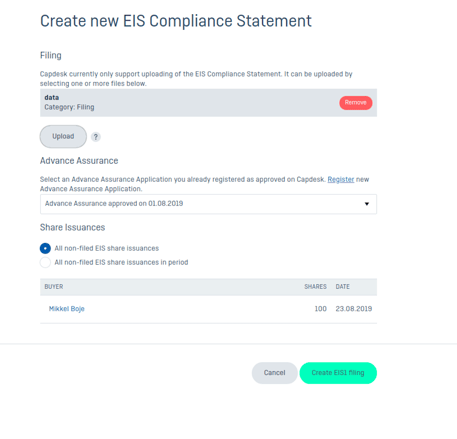 If you have an approved EIS AA, you can also link your EIS1 with the appropriate EIS AA, as well as with any non-filed EIS issuance transactions on the platform. Once again, you can mark your EIS1 as filed, and then as approved or rejected.
When HMRC approves your EIS1, they'll issue an EIS Certificate (EIS2) to you, allowing you to issue Compliance Certificates (EIS3) for your investors. Once again, you'll be able to upload and store your EIS2 on Capdesk, along with the Unique Investment Reference (UIR) you'll need to generate EIS3 certificates.
Normally, you'd have to manually fill out, sign, and mail EIS3 certificates to your investors. But on Capdesk, this is now all done digitally! To generate an EIS3, go to your newly uploaded EIS2, and select 'Sign EIS3'.

This will trigger the EIS3 documents generation, which you'll be able to see both under the HMRC tab and the Tasks tab, where you'll see a new task appear asking you to sign the documents.

Once you're ready to sign as a company representative, you'll be directed to DocuSign where you can sign with just a couple of clicks!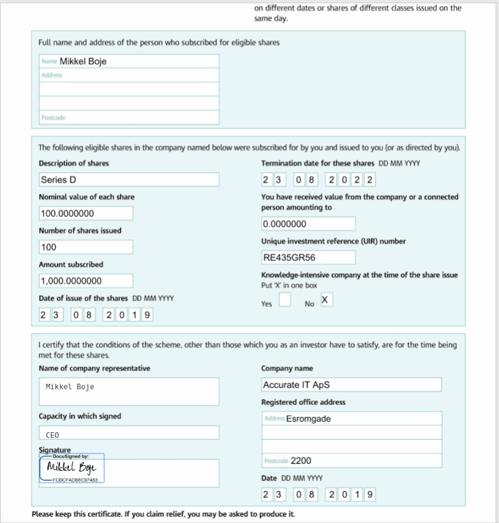 Once signed, your EIS3 will be published under the relevant transaction and your investors will receive an email telling them that the signed EIS3 is now ready for them to download from Capdesk.
The signed EIS3 will remain available on Capdesk both for your investor and your company to access at any time under the share issuance transaction it is linked to. No paper involved!
*If you would like some guidance in creating your Advance Assurance and/or EIS1, pleas get in touch to be referred to a trusted Capdesk partner. Meanwhile, stay tuned for semi-automated EIS1 features coming your way soon!