We have big news! Capdesk is partnering with payment experts Shieldpay, to make digital option exercises possible! Upon termination of employment, your employees can choose if and how many of their vested options they would like to exercise through Capdesk. Shieldpay will ensure the transaction is safe for both you and your employee, by retaining the transfer money in an escrow account until the transaction process is completed and fully verified on Capdesk.
Here's how it works:
1. Enabling Option Exercises on Capdesk
Before you can invite an employee who is being terminated to exercise their vested options, you'll have to enable online exercises for the share option plan(s) that they're part of. You can do so by navigating to your 'Options' tab, finding the employee share plan you're interested in, and simply selecting 'Enable Online Exercises'.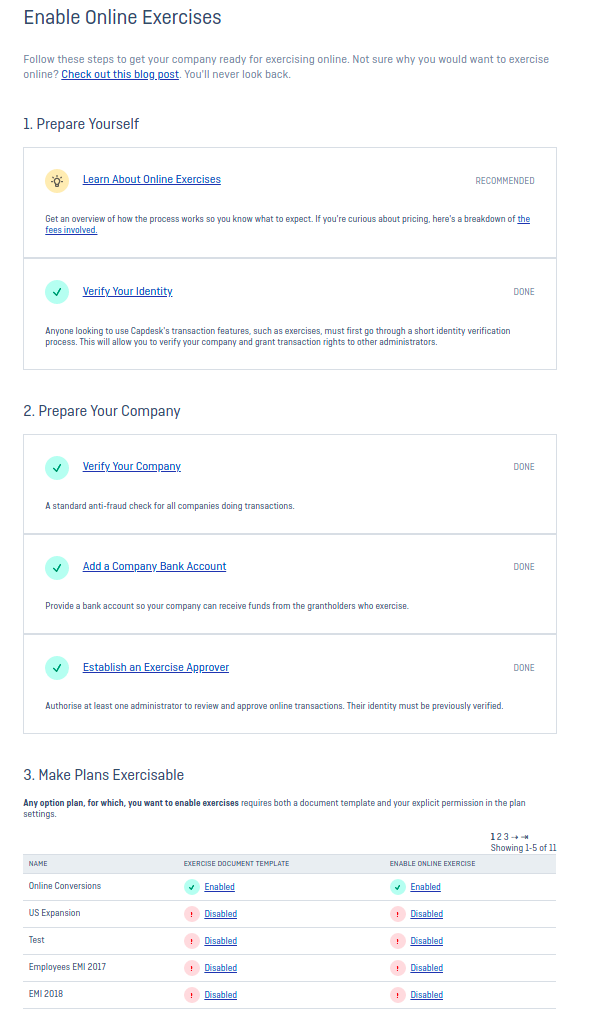 Visit our relevant support article for more details on how to enable online exercises.


2. How To Verify Your Identity with Shieldpay
In order for us to ensure that the transaction is secure for all involved parties, the identity of your company, the administrator, as well as the optionholder will be verified by Shieldpay. This process is carried out by Shieldpay through your Capdesk account.
More specifically, all 3 parties will be asked to fill out a form with relevant information on Capdesk, and Shieldpay will automatically verify whether it is correct. If the information you've entered is either incomplete or incorrect, you will be directly contacted by Shieldpay, to help you complete the process.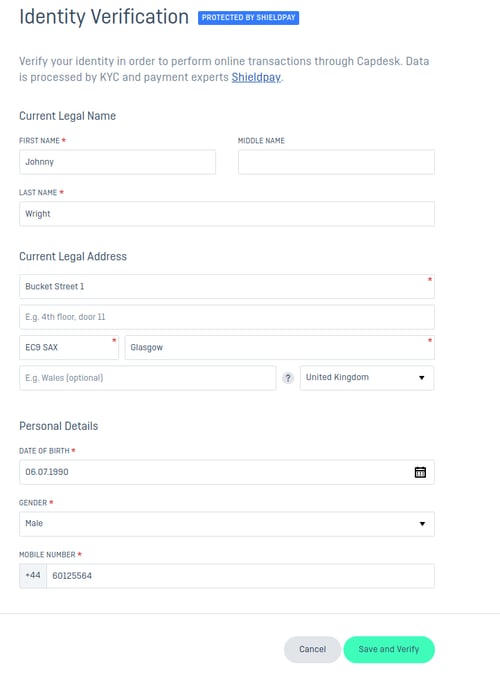 Keep in mind that a verified identity will remain as such on Capdesk for 12 months, so you won't have to repeat this process for future transactions within that period.


3. Choosing Your Terms for The Exercise


Once your identity is verified, you'll be able to add the details of the bank account to which you'd like any potential payments for exercised options to be transferred to.
At this point, you'll also be able to tell Capdesk who within your company you'd like to approve your employee's option exercise. You can select any admin user who has been verified on Capdesk to act as an Exercise Approver.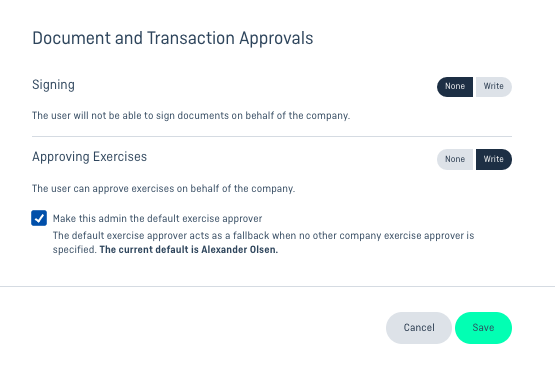 Finally, pick the exercise template you wish to use for this case (exercise notice, as well as an S431 and/or deed of adherence if you wish), fill it out, and re-upload it on Capdesk. You're now ready to begin the termination process and invite your employee to exercise their options!


4. Termination of Employment


To terminate a grant on Capdesk, return to your 'Options' tab, and select the 'Terminate Online' option from the drop-down menu next to their name.
You'll now be asked to provide the termination date for the employee in question. Please note that this date can only be in the past or present.
Once you've selected a date, you'll be automatically shown all relevant details of the employee's option-holding, such as their number of options granted, vested, or exercised.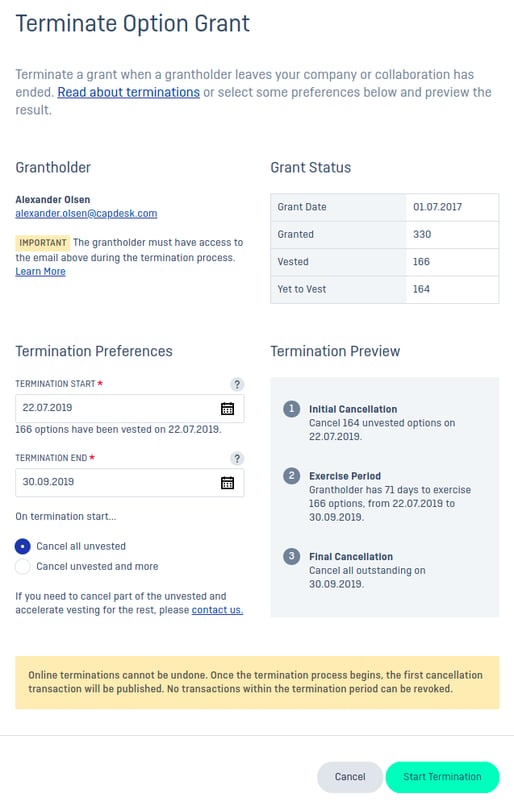 If you wish to cancel a portion of the employee's options, you will now be able to do so, however please keep in mind that you cannot revoke an employee's termination once you've finalised it.


5. Exercise of Employee Share Options


Upon their termination, your employee will receive an email notifying them that they can now exercise their vested options on Capdesk.
Once they've logged in, they will need to verify their identity as mentioned before. If already verified, the employee will have to select the 'Exercise Options' function from the drop-down menu next to your company name.
If the employee is part of multiple employee share schemes, they'll be able to terminate and exercise vested options for all of them if they wish. Now, the employee will be given the choice of how many options they'd like to exercise, and shown the total price for those shares.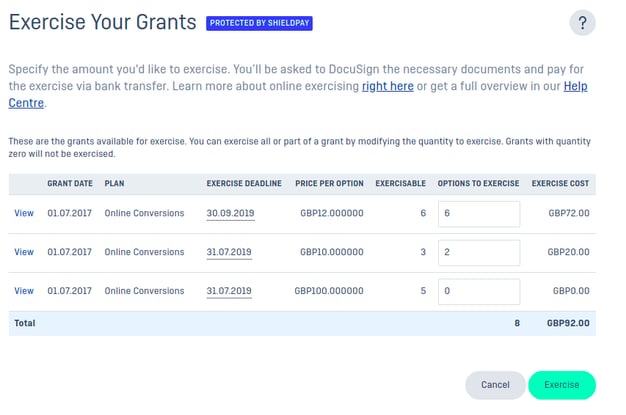 Once they've confirmed that they are willing to pay the quoted price for their shares, they'll be directed to DocuSign, to sign their Notice of Exercise electronically.
Following that, they'll be guided through the steps they need to follow to pay for their shares. The payment will be transferred from the employee's bank account to a secure Shieldpay escrow account, so that their money can be returned to them in the case that their transfer is either rejected by the employer company, or fails to go through for any other reason.
Processing fees for the transaction are covered by the employer company. Fees will be deducted out of the payment made from the employee to the company.


6. Monitoring And Approving Transactions


Throughout the exercise process, you'll be able to monitor its status under the 'Tasks' section. For example, after the employee has requested to exercise their options, it will be time for the Exercise Approver to approve the transaction, so the exercise status will be tagged as 'Issuer Approving'.

As a company, you'll be shown how many options the employee wishes to exercise, as well as how much money you'll receive following deduction of Shieldpay fees, and to which account this money will be transferred,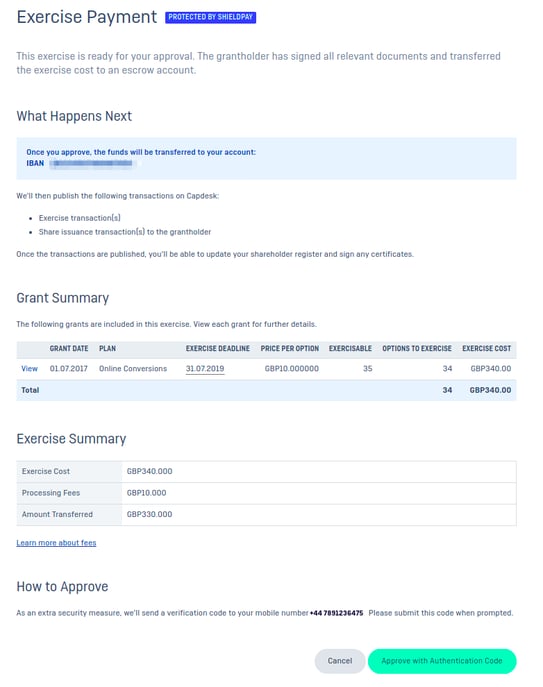 When you're ready to approve the transaction, you'll receive a 6 digit code on your phone for Shieldpay to doubly confirm your identity. Once you submit the code on Capdesk, you're ready to approve!
For more information on this, take a look at our support article on how to approve online exercises.


7. Updating Your Reports


Now that your employee has formally become a shareholder, their name will automatically appear under the 'Shares' tab of your company account. Your cap table will also be instantly updated, and the necessary share certificate will be generated by the platform without you needing to lift a finger!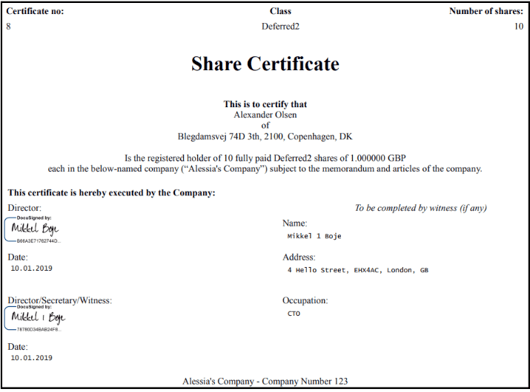 If you've configured shareholder access to company information to be different from that granted to optionholders, your new shareholder's access will also be updated automatically. You can read further about this on our blog about configuring user access on Capdesk.
Finally, you can choose if you want to export a new CS01 to reflect the fact that you now have a new shareholder, and choose whether you want to add your former employee to your shareholder register.
Sound great? We think so too! Stay tuned for more transaction-related updates coming your way soon.