Nutmeg is the UK's largest digital wealth manager, helping more than 80,000 customers make smarter investments and reap potentially greater financial rewards. Founded in 2012, Nutmeg was the first wealth manager of its kind in the UK, helping to create a much-needed market for cost-effective personal money management.
---
Eight years since its public launch, and after five funding rounds, Nutmeg faces an increasingly complex task in efficiently managing equity for its employees, leaders and shareholder investors. That's where Capdesk comes in.
We recently sat down with Damian Walsh, Nutmeg's Financial Controller, to understand just how Capdesk has helped his team take the pain out of cap table management.
A collaborative relationship
First approached by Capdesk Co-Founder and CEO Christian Gabriel in early 2018, the team at Nutmeg influenced the platform's development by giving feedback and making suggestions for additional features.
"Before Capdesk we were using a simple spreadsheet to manage our shareholders, option holders and vesting schedules. Once we understood what Capdesk could do for us as a digital platform, we were sold. We worked closely with the Capdesk team to discuss our requirements and the features that would help us get the most out of the software."
Set up a conversation to see if we can do the same for you
The evolution of the platform
In the two years since Nutmeg joined Capdesk, Damian has seen the platform evolve first-hand.
"The system's functionality has increased exponentially. There's so much Capdesk can do now, it's become a really robust product, particularly with the recent launch of the online secondaries feature. Capdesk's online secondaries market represents a great opportunity for Nutmeg in the future.
"We're also looking at potentially using the platform for signatures and other secretarial work that our legal counsel currently does manually. We will look to use Capdesk for as much of this as possible, because it gives me peace of mind to know that things are going to be correctly filed with Companies House or HMRC."
Automated timesavers
With Capdesk, Nutmeg's finance team saves hours each month by generating up-to-date reports at the click of a button and allowing stakeholders to check the status of their equity through their personal account.
"One great thing about having Capdesk set up is that I'm no longer manually checking employees' options status. Whenever the question comes up now, I can simply direct employees to the platform, where they can log on and view it themselves."
"I get a number of shareholders approaching me each month for a summary of their investment, which can be quite a fiddly thing to compile manually. Now, it's simple – all I have to do is run a transaction report, download the data and send it on to the shareholder."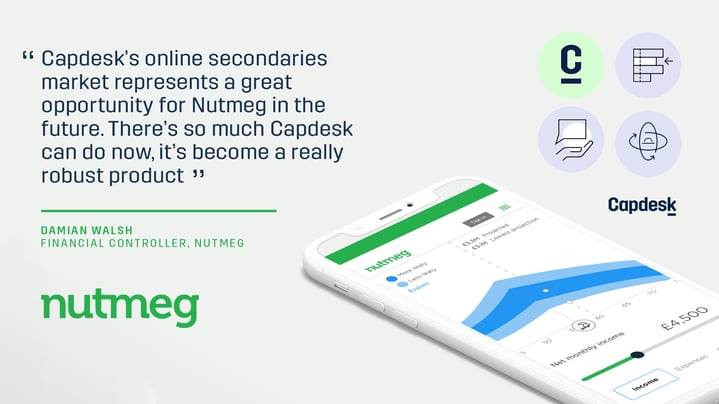 Scaling with Capdesk
While Nutmeg is already seeing savings with Capdesk, Damian knows his team will reap even greater benefits as the company grows.
"As our shareholder register grows, the number of equity-related enquiries we receive will only increase – but because we're with Capdesk, it won't take us any longer to manage."
Hands-on support
Throughout Nutmeg's journey with Capdesk, one thing has remained constant: hands-on technical support and advice from the Capdesk team.
"I have to give kudos to everyone at Capdesk – they've been so helpful in getting this off the ground. Both our account managers have been really useful and always on hand to answer questions. When I have questions, my account manager is happy to go through them in granular detail. The quality of the service is excellent."
---
---
Scarlett spoke with Damian Walsh, Nutmeg's Financial Controller in August of 2020