Hope you had an excellent beginning to 2018. At Capdesk we have been off to a flying start. So busy that our January brief had to be postponed to February. Anyway, here it is - your monthly brief of the latest platform updates and releases with a particular focus on warrants and draft mode.
Warrants
We have added advanced support for warrants which will be included in all dilution calculations and exports. Exercising a warrant, (in contrast to options) normally results in new financial instruments being created. Keeping track of dilution is a pain for fast developing companies with several warrant grants. Especially when combining with other securities such as options and convertible notes. With Capdesk new feature it is super easy to get an overview of warrants, outstanding, vested and exercised. Just like our options module, warrant holders can be invited to access their private Capdesk where they can track vesting and all documents related to the agreement.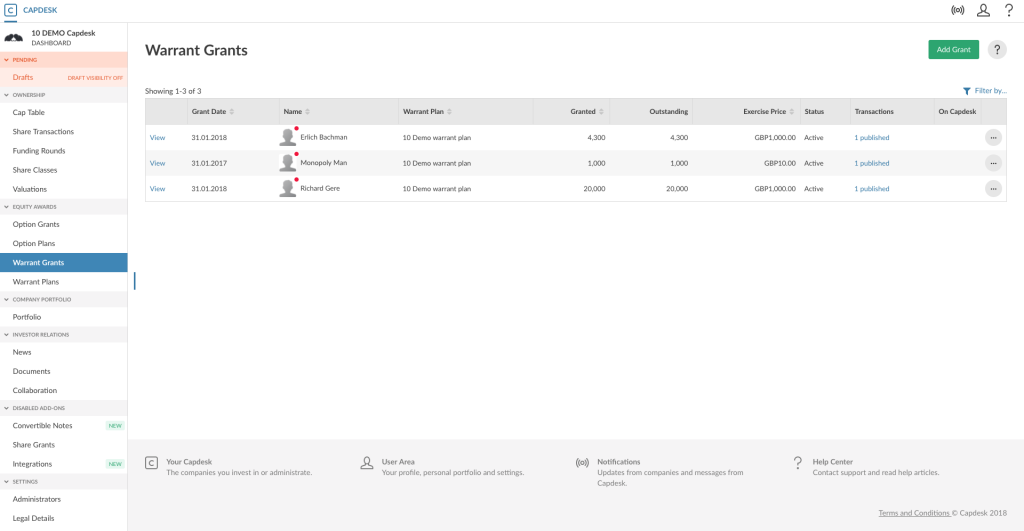 Draft mode
Enable administrators to make changes in a private view. Handy if you want to create scenarios for a new funding round, simulate an employee share issuance or simply want to triple check that your data is correct before publishing and giving access to other stakeholders. Each administrator can toggle draft visibility on/off for themselves independently.
Employee share plans
Remember that we can make customised employee option plans for your company. Prices starting at £1500 including 12 months Capdesk option module. Get in touch with casper@capdesk.com if you want to know more.