A few months ago we changed the game of digital equity management, by enabling private UK companies to execute option grants 100% online. But think we forgot about companies like yours based elsewhere in Europe, or operating in multiple jurisdictions? Guess again! We've now made grant execution even more flexible on Capdesk, so you can issue them compliantly, no matter where in the continent you're issuing them.
Issuing Grants On Capdesk
As a reminder, Capdesk enables you to issue grants via the platform (both to old and new stakeholders), by uploading your own documents or using templates that will automatically merge with your existing data on Capdesk.

Then, you have the option to sign grants as deeds (UK compliance requirement), or as regular contracts (fitting for the rest of Europe).
If you'd like to find out more about signing grants as deeds on Capdesk, check out our relevant blog or get a step-by-step technical walkthrough of the process in this support article.



Issuing Grants Without Witnesses
If you wish to issue a grant without the need for a witness to sign too, you'll have to start by creating a template for your grant agreement.
Head to your 'Options' tab, enter the 'Document Templates' section, and select 'Add Template'.
When adding your new template, you'll be able to choose between a 'Witnessed Agreement' or a 'Standard Agreement'. Choose the latter, and upload your template.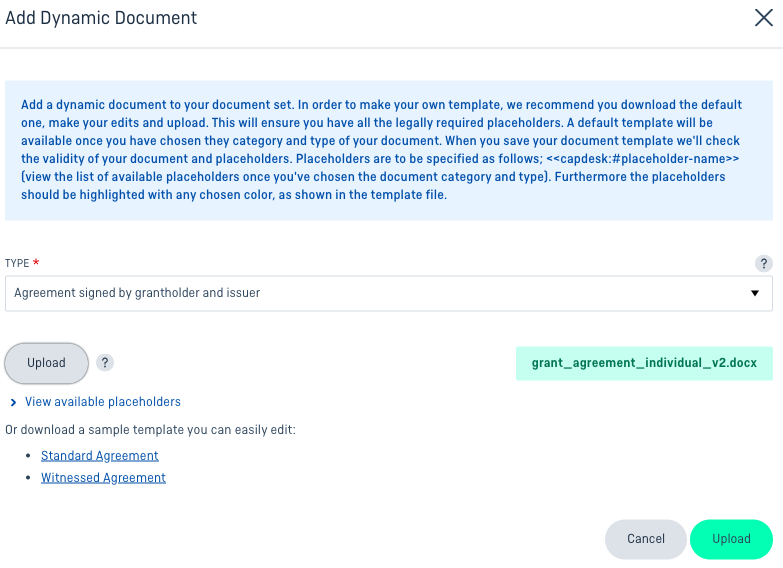 Once your template is set up, you're ready to continue the issuance process by selecting which stakeholders you wish to sign the document as issuer and grantholder. Both parties can sign electronically and compliantly with the click of a button, thanks to Capdesk's integration with DocuSign.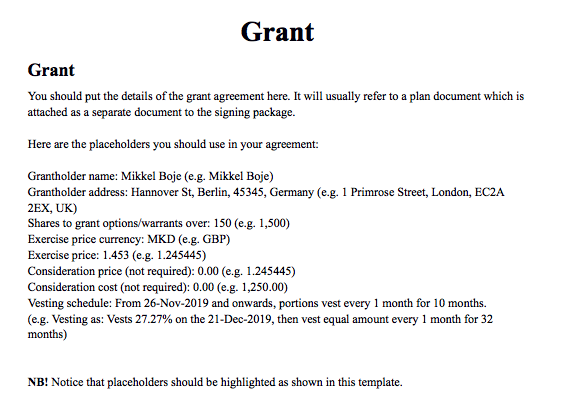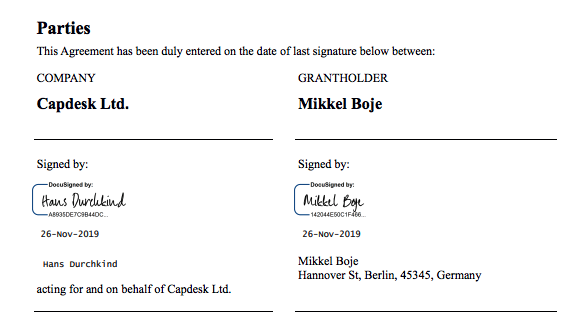 After that, you'll be able to reuse the same template if you need to in the future, and select the same or different stakeholders to sign it. Just go to your 'Options' tab, click 'Add Grant', select 'Execute on Capdesk', and pick the template you've already uploaded.
As usual, Capdesk will automatically update your cap table and all relevant reports after you've issued your grant. And when the time comes for your employees to exercise their vested equity, they can do it securely through Capdesk, after which you will also be able to issue and sign their share certificates electronically. All from one platform!