Remember the old, cumbersome days of manually trying to do share splits or merges on that usual spreadsheet? The long hours spent sorting out the adjustment of ratios for shares, options, convertible notes, and all sorts of equity - for each of your different share classes! Not to mention the new share certificates you had to issue, or updating your shareholder register, or filling out SH02s for Companies House for that matter.
Well you guessed right, all of this can now be done on Capdesk with a couple of clicks, and only takes a couple of minutes. Thank God for the digital age.
From your main screen, navigate to 'Shares' and then 'Adjustments'. Click the 'Add Adjustment' button to perform either a split or a merge.

Pick the share class you want to make changes to, and then a date for those to take place. Select the ratio you want your equity to adjust to (eg. a split can be from 1 to 2). The platform also supports fractional adjustments (eg. from 1 to 1.5), but note that the end numbers in your cap table will always be a rounded number.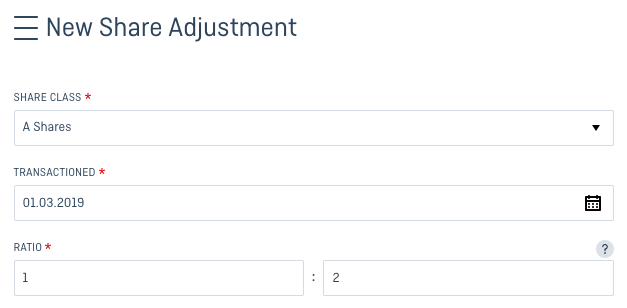 Once you input your desired ratio, you'll be shown the share's nominal value adjustment as well as their change in number. The split or merge is supported by the platform for all types of equity within the selected share class (eg. phantom shares, options, warrants etc.)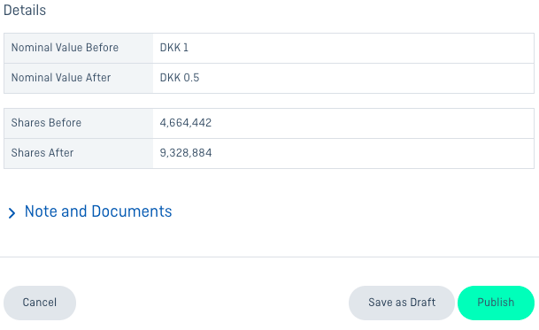 Did you expect this article to be longer? We know other platforms take days to process your splits and consolidations, but for Capdesk there's nothing more to say - that was it! In a couple of minutes, you should see your updates automatically reflected on your cap table, holdings, reports, and share certificates*.
All that's left to do now is fill out your SH02 before sending it of to Companies House. But no stress, we've got that covered too. Read about it here.
*Don't worry, your old signed certificates will still be stored on Capdesk for historic purposes. It's only your draft certificates that will change, and you can sign those as soon as your updates are complete!