6th of July is almost upon us...
Only a few months after tax year end and you are already prepping for your next filing. Whilst not as onerous as tax year end obligations, filing HMRC's Employment Related Securities (ERS) Return (formerly Form 42) is not a task that anyone particularly looks forward to.
If you've got EMI or CSOP or other employee share schemes you'll know the burden of this yearly chore. For each different plan you must fill in 14 data points and then for each individual grant you need to fill in some 20 data points including changes from last year. Needless to say we can see why this is not many people's favourite job of the year.
Whilst some of the data points might be easy to copy and paste (like option holder's names etc) other data points are not easy, e.g. the change in allocated options since last year. As with many of these mandatory administrative processes the instructions aren't always easy to follow. In fact, the guidance notes for completing the CSOP and EMI returns alone run to almost 10,000 words.
So that's why we at Capdesk decided to do something about this. We've built a 1 click automated solution that will save you hours of your life and perhaps even delay the onset of your next few grey hairs.
How to create your report
If you are a Capdesk user, generating your HMRC EMI Report really is as easy as clicking 3 buttons.
Firstly, head to the 'HMRC' tab, select the 'Export' dropdown and then 'EMI Annual Return', click to generate report and voila. Straight to your inbox will be your HMRC EMI Report ready to review before sending to HMRC.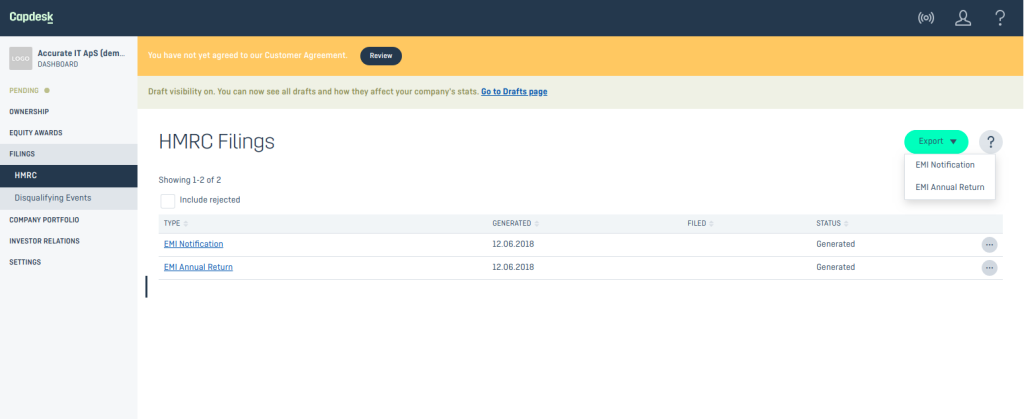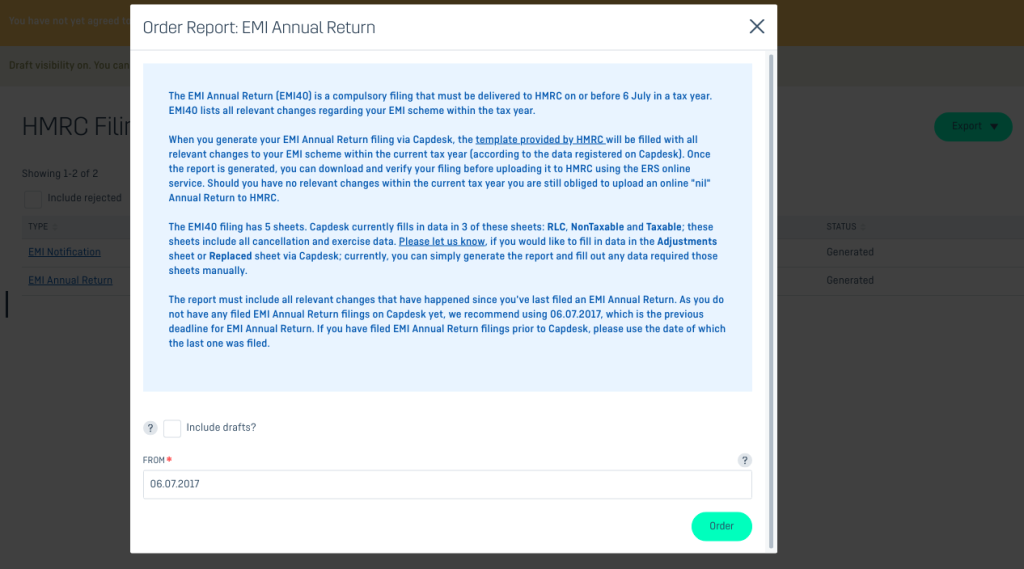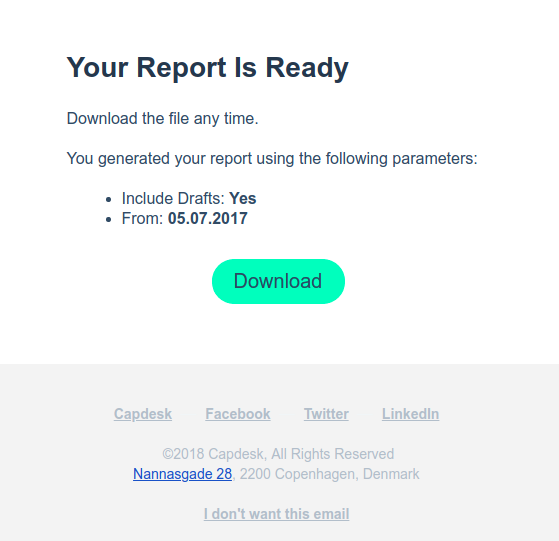 You can see all the fields have been filled out, saving you hours. Although in most cases the report will be ready for sending straight to HMRC, we recommend checking through all of the data to ensure accuracy.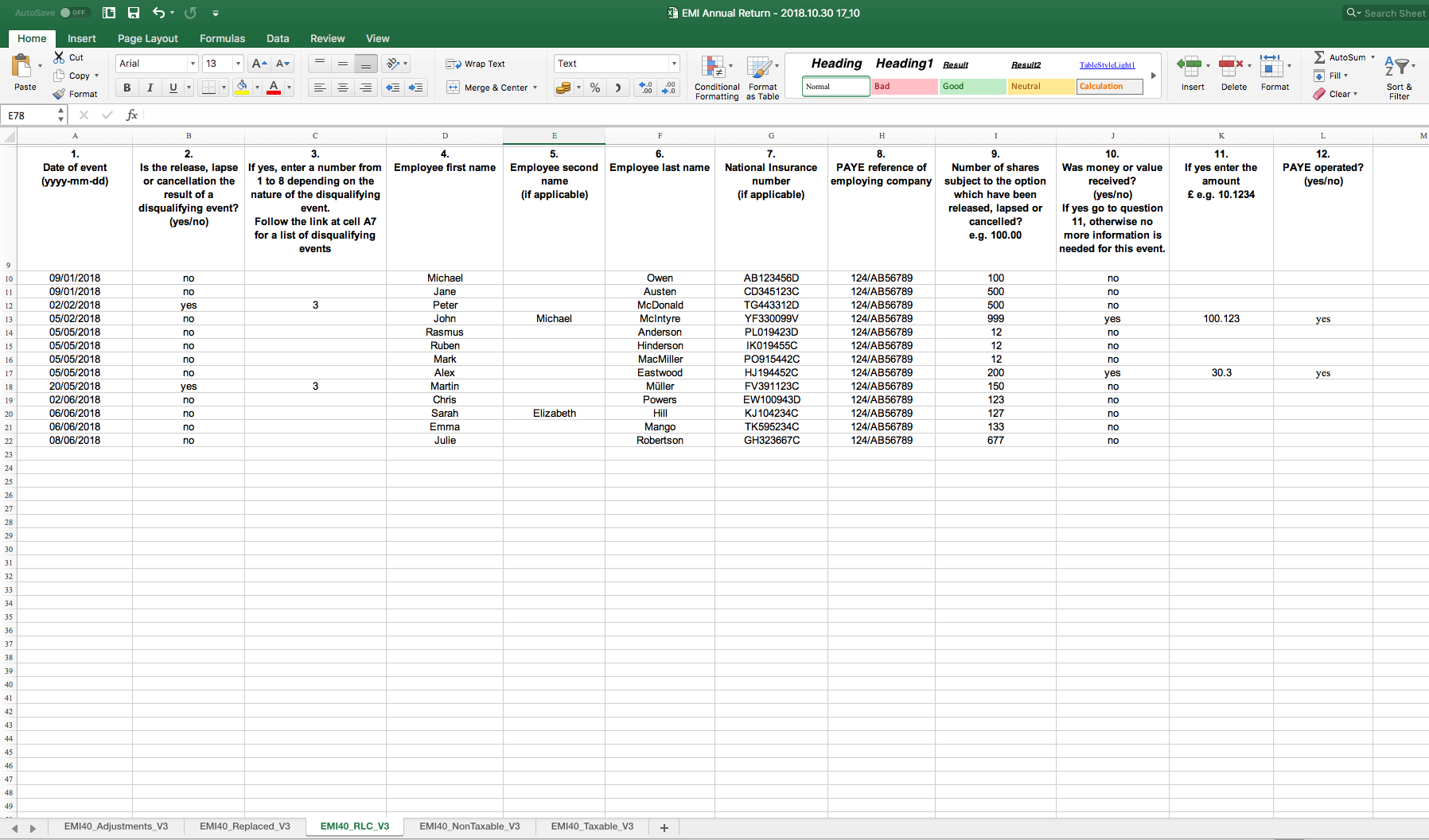 If you are not on Capdesk yet then this is the perfect time to get started ahead of this year's July 6th deadline. We offer a full data audit and migration service so we can take all of your existing Excel spreadsheets and get them cleaned up and on to Capdesk. If you get your information over to us before the end of May, we will be able to ensure that we can have your report ready by HMRC's July 6th submission deadline. Get in touch with us support@capdesk.com and we'd be happy to get you set up.
If you are currently using Capdesk get in touch with your Account Manager or alternatively email us at support@capdesk.com and we can start getting you set up right away!
I guess the only thing left to say is: sorry we didn't build it sooner.