2020 brought unexpected challenges to every UK business. While most worked to protect as much of their revenue as possible, others faced a surge in demand. Online meal-kit provider Gousto was one of the latter.
---
Since 2012, Gousto has helped home cooks create adventurous, delicious meals by supplying pre-portioned ingredient packs and easy-to-follow recipes. As the lockdown shuttered restaurants across the nation, Gousto saw a huge increase in sign-ups – and a chance to further its mission of "becoming the UK's most-loved way to eat dinner".
The company has grown steadily in the last eight years to a workforce of almost 400 employees, with total investment nearing £140m. Part of a growing trend to stay private for longer, Gousto remains non-listed and completed its Series G funding round earlier this year.
While the decision to delay an IPO has proven fruitful – Gousto expects to report its first annual profit in 2020 – managing the equity of a business that's reached Series G is a sizeable, multifaceted challenge. Gousto became a Capdesk customer in March 2020, and has since made numerous changes to its cap table and shareholder management. We caught up with Mike McClean, Head of Financial Control & Accounting, to get the details.
Onboarding at pace
Expecting a lengthy process from signing the contract to signing in to their account, Mike and the finance team at Gousto were pleased to find the entire onboarding process was completed in a month.
"With a cap table of our size, we anticipated timelines closer to 12 weeks. It was a very nice surprise to see that we were up and running in 32 days. We went from managing Gousto's cap table and employee share plans on Excel to having a fully digitised version in such a short space of time, which immediately validated our decision to join Capdesk. The process was smooth and efficient, and we began to reap the benefits right away."
Set up a conversation to see if we can do the same for you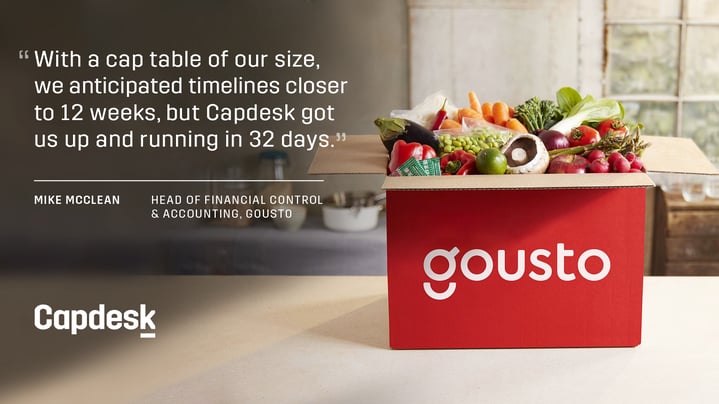 Cleaning up the data
Onboarding to Capdesk is never simply a case of copying figures from one spreadsheet to another, which proved fortunate for Gousto. Our analysts follow a process that includes a thorough review of the existing data for accuracy and compliance.
"It's a good thing that Capdesk's team checked our data so rigorously, because it turned out that there were some errors in the existing spreadsheet. Sindy in Client Success was very helpful in flagging this and working with us to find and correct the mistakes, and made sure we had total confidence in the cap table by the end."
A share certificates overhaul
Sindy also noticed that Gousto issued share certificates separately for each round, which can cause problems down the line when shares are transferred and multiple certificates are in circulation.
"Sindy explained that Capdesk's share certificate feature consolidates these separate certificates into one, making future share transfers easier to track. With this in mind, we opted to cancel our existing certificates and issue them from scratch to all our shareholders via Capdesk.
"After discussing our options, I felt confident this was the simplest solution and would leave us better protected for the future."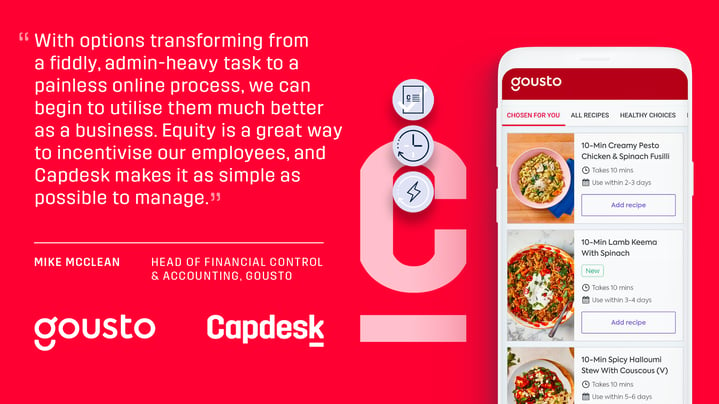 Getting time back for other projects
A common experience among Capdesk customers, Mike was pleased to find Gousto's finance team saving time straight away.
"Without having to painstakingly search through folders for hard-to-find documents or chase stakeholders for offline signatures, some of the team's biggest administrative time drains are now gone. This leaves us in a happy predicament – deciding which other projects to bring to the front of the queue instead."
Taking advantage of efficiency
While the offline method is time-consuming, issuing options digitally on Capdesk takes no time at all – making options a viable ongoing way of incentivising employees at Gousto.
"With options transforming from a fiddly, admin-heavy task to a painless online process, we can begin to utilise them much better as a business. Equity is a great way to incentivise our employees, and Capdesk makes it as simple as possible to manage."


---
Scarlett spoke with Mike McClean, Gousto's Head of Financial Control & Accounting in August of 2020