Once you've found your investors, you think all the hard work is done and the money will be in the bank within hours. It ought to be like that, but reality is, however, that the fundraising process is often surprisingly lengthy and costly. The primary reason for this is that there is no standardised process for completing a funding round. Most funding rounds are done manually - with each lawyer or fundraising platform doing it differently. On Capdesk you won't get any help finding the right investors for your round. But we strive to streamline all the boring paperwork, which really shouldn't be costly.

Documents and Resolutions
Depending on whether you're doing a larger round or a bridge round, you'll need some documents and resolutions:
Term sheet which sets out the key terms of the round. This is used to assess the size of the round and align expectations at a high level before spending time on the investment agreement. Investors should fill in amount they want to invest and sign the term sheet to give a "soft" commitment.
Investment agreement is the final subscription document to be signed by investors and company whereby the investors commit to invest.
Shareholder's agreement is used to control the relationship between investors in addition to what is stated in the Articles of Association. It is signed by new and existing shareholders.
Board resolution approving the issuance of shares
Shareholder's resolution where shareholders approve the issuance of shares and waives any pre-emptive rights (if not participating in the round).
Other legal documents may need amendments like your Articles of Association depending on the deal - the amendments may again trigger resolutions.
The main documents mentioned above often contain appendices - especially the investment agreement may have quite a few. One appendix which is essential and is always included for both the term sheet and the investment agreement is a "cap table" before and after the round. The format of this "cap table" differs among lawyers, especially if the company has convertible notes or/and notes are part of the round.
Capdesk Round Modelling Export
Companies on Capdesk can simply export a round modelling report to be used as appendix for their term sheet or investment agreement. Actually, we are currently fundraising in Capdesk and have used it for our own term sheet, :). The advantage of a round modelling report compared to a regular cap table (which can also be exported) is that it gives a nice overview of the capitalisation before and after round.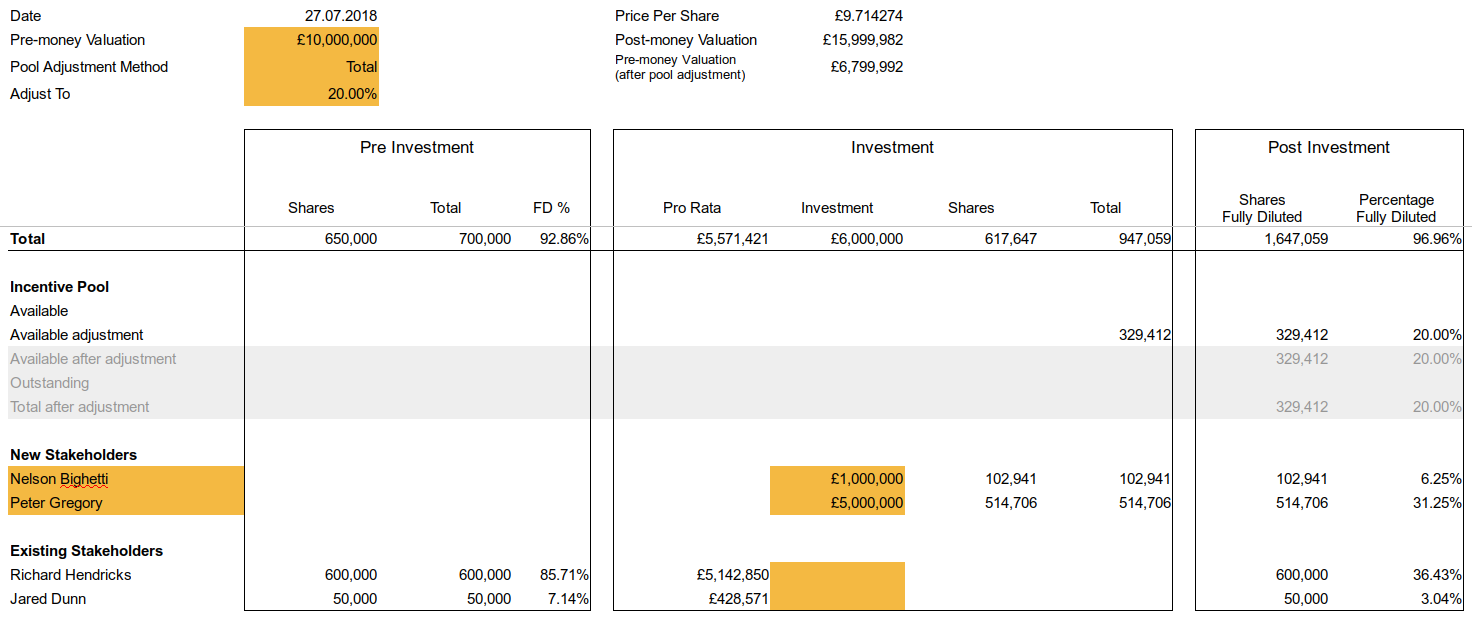 Besides showing fully diluted ownership before and after the round, the round modelling report is very helpful when:
Your incentive pool is to be adjusted in connection with the round. The Excel report can be used to automatically calculate the required number of options to adjust given a desired pool percentage. Read more in our upcoming post "The Option Pool Shuffle".
You have existing convertible notes which are to be converted in connection with round. When exporting the round model from Capdesk, it will automatically include notes registered on Capdesk. It will even calculate conversion of them taking all the parameters like discount, valuation cap and qualifying financing into account. Read more in our upcoming post "Note Conversion Methods".
New investors will invest using convertible notes. From Capdesk you can choose to include a note template sheet where you can fill in new notes. You can use the report to estimate the impact of the new notes at different scenarios.
Warrants or options are to be used as deal sweeteners in the round.
The Excel Format
"I thought you guys told me to move away from spreadsheets?!?". Yes, indeed. You should never keep your equity transactions outside a proper database system. However, in Capdesk we're not fanatic, but rather pragmatic caring about the most efficient way to get things done. Excel is a perfect format for a lot of our reports including the round modelling report as:
It is easy to include as appendix to your term sheet and investment agreement.
It is easy to share with anyone during due diligence and initial investor talks. You can also invite outsiders as viewers to your Capdesk account, but the barrier is just lower when sending a spreadsheet.
We don't want to force all our customers to use the exact same format and calculations for all standard reports. A spreadsheet is perfect for you to do that minor modification which means a world for you.
Running Funding Rounds on Capdesk
While we have no current plans of finding the right investor for you, we are developing support for the entire documentation process including signatures, resolutions and authority filings for funding rounds. This will save you and your legal resources a ton of time and money. Contact mikkel.boje@capdesk.com for more information.
Get Capdesk Round Modelling Template
Feel free to reach out to our sales team (sales@capdesk.com) for a free copy of the Capdesk round modelling template. And when you've spent more than 1 hour filling in existing equity data, sign up for Capdesk to spend 0 seconds the next time.