So you just had to cancel some shares you previously issued - what's the next step? Well, you'll have to file a form known as 'SH06' to Companies House. Not sure what an SH06 is? Stay calm, we're here with some expert advice. Familiar with the form, but tired of all the manual work of filing to Companies House? We'll also tell you about how Capdesk makes filing your SH06 a whole lot faster. We're just natural problem solvers!
What Is A Notice of Cancellation of Shares?
A notice of cancellation of shares, or SH06, is a form that private companies are obliged to file at Companies House every time you cancel shares. Therefore, the number of times you'll have to file an SH06 depends entirely on your particular company's situation and how often you cancel shares.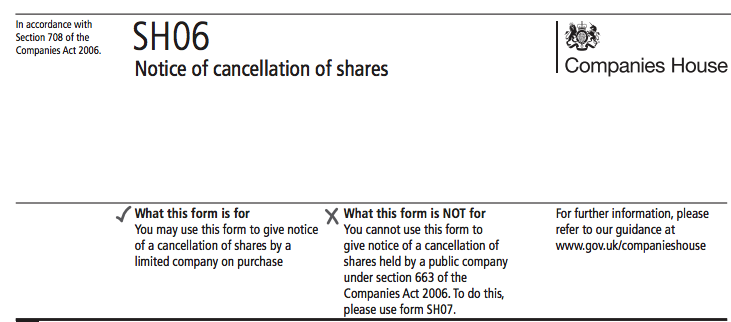 Who Can File A Notice of Cancellation of Shares To Companies House?
You're eligible to file an SH06 on behalf of your company if you are any of the following:
Director
Secretary
Administrator
Administrative Receiver
Receiver Manager
CIC Manager
Person Authorised
Filling Out Your SH06: First Steps
The first thing you'll have to do in order to fill out your form, is state your company details - i.e. company number and company name. After that, you can jump right into declaring what shares you cancelled and on what date. There is no restriction as to how many shares you can cancel on a certain date, however shares that have been cancelled on different dates must be declared separately. For example, if you've cancelled a certain amount of shares on April 15th, and then a few more on April 17th, you'll have to file two forms to Companies House - one for each corresponding date.
Once you've filled out the basics, you're ready to get into more detail about your cancelled shares.
Reporting Your SH06 Statement of Capital
In the following section of the form, you'll be asked to file in a statement of capital to inform Companies House about what your company's capital structure looks like right after the cancellation of shares takes place. Specifically, you'll have to declare the currency of your shares, what share classes you currently have, how many of each there are, as well as their aggregate nominal value (and total aggregate amount unpaid, if applicable).
Note that if your shares are not all in the same currency, you'll have to fill out the details for the shares of each currency in separate sections, as shown below.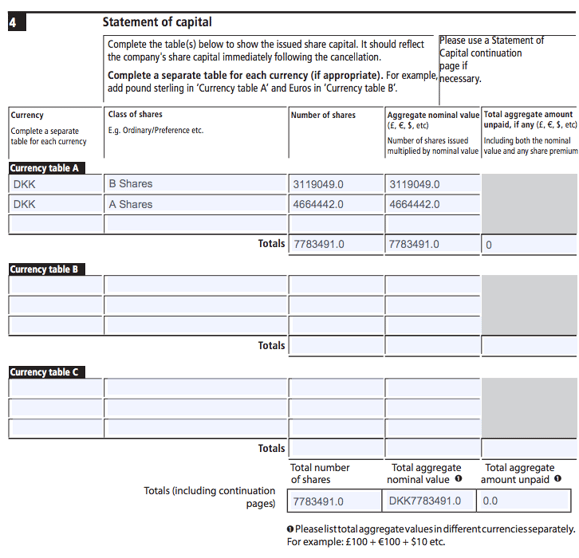 Also, as a side note, the form supports up to 19 different share classes, so you should be fine adding as many share classes as you want in there. However, if you're one of the few who have more classes to include, you'll have to file in a second SH06 with your remaining share classes mentioned there - sorry!
Declaring Prescribed Particulars of Rights
Following that, you'll have to inform Companies House about any potential rights (i.e. prescribed particulars of rights) attached to each of your existing share classes. This can refer to voting rights, the right to participate in a distribution, or the right to redeem shares. Keep in mind that you'll have to fill out a table of rights separately for each of your different share classes, as shown below.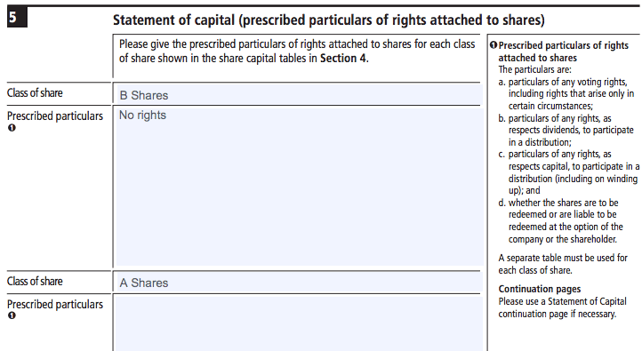 Giving Companies House Your Presenter Information
Right before you sign the form to send it out, you'll be asked whether you'd wish to include your company's contact information. Please note that this section is optional, and it mainly serves to help Companies House get in touch with you in case you're including a query in your form. Just be aware that this contact information will become publicly available should you choose to include it.
Signing Off Your Notice of Cancellation of Shares
Finally, you'll have to add your signature at the bottom of the form to make it official. And then you're done - you're ready to file your form at Companies House!

How To File An SH06 Through Capdesk
At Capdesk, we're all about efficiency. So why not help you auto-fill your notice of cancellation of shares on the platform, so all you have to do is sign and send it off?
Let's take a look at how you can do that - it only takes a couple of clicks!
To start off, just click on the 'Companies House' section on your left hand menu and then select 'Export' and 'SH06'.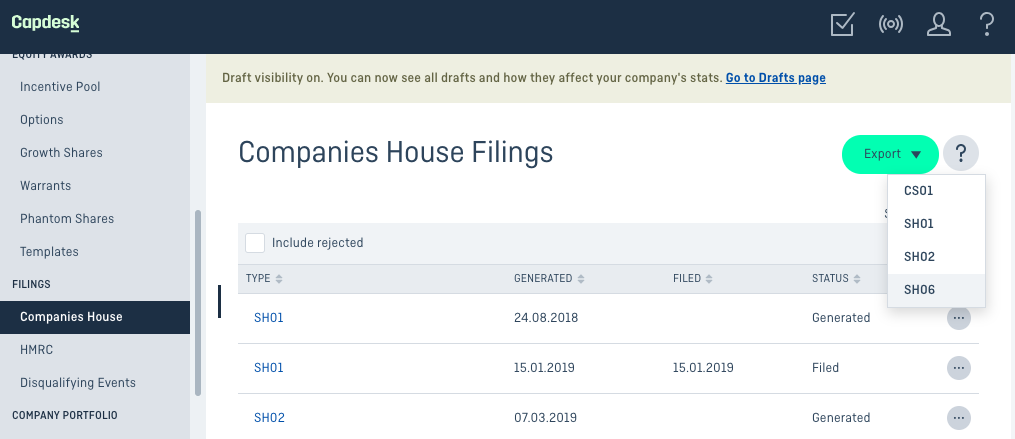 This will direct you to a pop-up form with a bit of information on how to generate your SH06 form. You can choose whether you'd like to include drafts, as well as the date for which you wish to declare shares cancelled.
When you're ready, click 'Order'. Very soon after that, you should receive an email from Team Capdesk.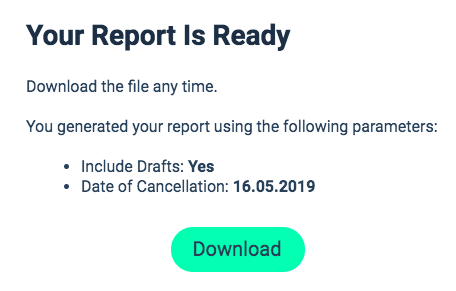 Click download, and then that's it! Your SH06 is now in the 'Downloads' folder on your computer.
All you have to do now is print it out and sign it, before you can mail it in to Companies House. Alternatively, you can opt for Companies House's webfiling option, and copy paste the pre-filled data on you Capdesk SH06 report onto the webfiling system, instead of manually checking and filling in all your share cancellation information. Piece of cake!
For more information on how to get your SH06 on Capdesk, check out our 'How to Generate an SH06' support article.
Want to save this guide for later? Download the PDF.