Remember that time we made history by making end-to-end option grant signing digital? Well, that put a smile on a few of your faces which made us very happy. So we decided to put in some hard work and extend our digital signing functionalities, so that we can now empower you execute your phantom shares and share grants online too. We want you to have full control, and full flexibility over your equity. Here's the gist of it:

As with your options, if you are a Capdesk admin user and wish to issue a share grant or phantom grant, you simply navigate to the respective security tab on the right hand side menu. Then you select 'Online Issuances'.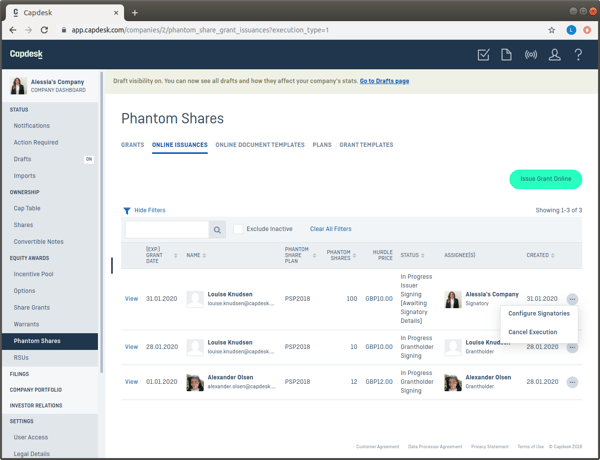 You'll then be asked to select the stakeholder to whom you are issuing the security, and associate the grant to the appropriate equity plan. Capdesk will then provide you with grant agreement templates which will autofill using the data you already have on the platform.




The agreement will be sent to the grant recipient right after that to sign digitally through our DocuSign integration (it only takes a second!). Once the recipient has signed, you and your selected witness will be able to sign through the same process. You can also check the signing status of the grant at any time.



As soon as the agreement is signed by all parties, it is immediately made official. All parties will be able to access the signed agreement at any time on Capdesk, and download it in PDF form if they need to as well. Piece of cake!