At Capdesk, we're serious about cap tables. That's why we've updated our exports to give you even more comprehensive reports on the data you keep on the platform. Get better insight than ever into your shares, and stay on top of who owns what with the new stakeholder category tags.
Let's take a look:
As usual, all you need to do is head to the 'Cap Table' tab of your account menu and click 'Exports', and 'Capitalization Table'. You can choose if your report should include draft versions, as well as ceased shareholders. Your requested report will be ready to be downloaded in your mailbox.
Firstly, you'll notice that two new fields, 'Shares' and 'Percentage of Share Capital', have been added to all worksheets of your report, giving you an extensive breakdown of what your equity structure looks like if you wish to exclude grants and debt.

We've also updated the 'Stakeholders' worksheet (previously 'Investors'), so you can see your equity's distribution among not just investors, but all types of stakeholder (eg. grantholders, debtholders). Stakeholders are also tagged by category (founder, investor, etc.).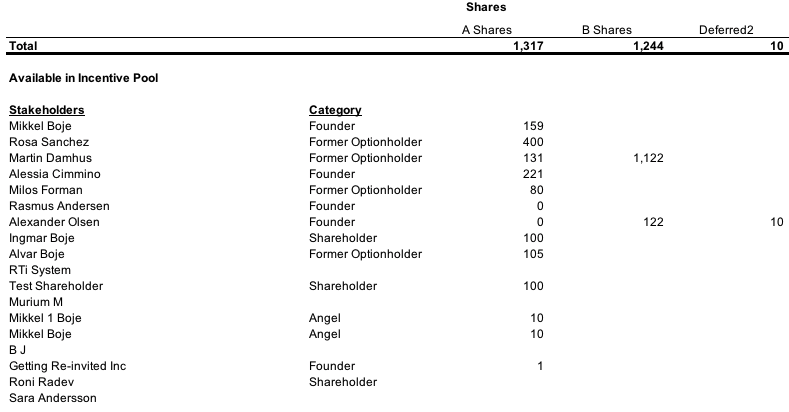 An entirely new sheet, 'By Category', has been introduced to give you an overview of shares, grants, and debts by stakeholder category.

Finally, get specific with a unique tab for each of your share classes, giving you a detailed account of how a share class is distributed across different stakeholders and stakeholder categories.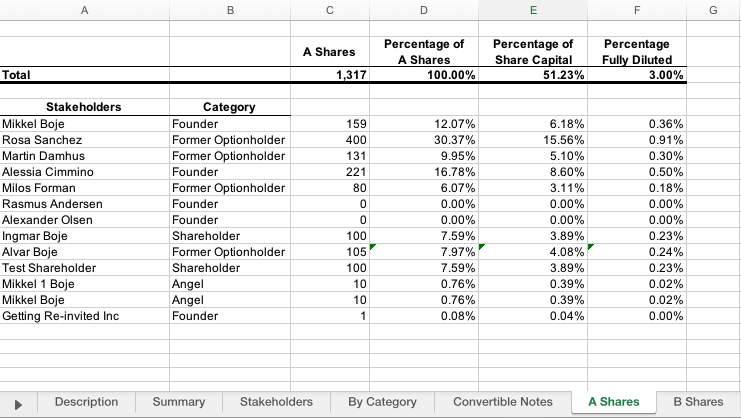 With so much information tailored to your every equity-related need, is there anything your cap table can't tell you? We don't think so!